A little discussion about the teacher fail that is issued at failblog.org.
The question
The post shows this math question: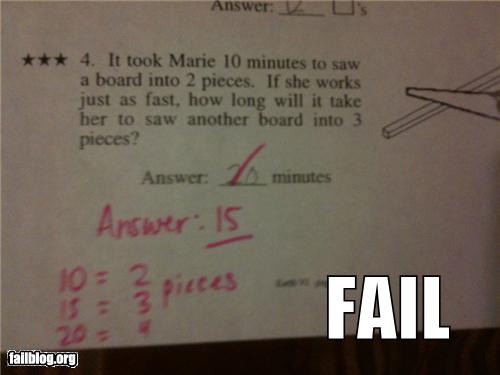 It took Marie 10 minutes to saw a board into 2 pieces. If she works just as fast, how long will it take her to saw another board into 3 pieces?
The student answer is "20 minutes".
Rule of three
The answer is considered to be wrong by the teacher, who corrects it using the rule of thee:
1 piece = 5 minutes,
2 pieces = 10 minutes,
3 pieces = 15 minutes
and thus, according to the teacher, in 20 minutes Marie will have 4 pieces.
Real life experience
Of course, Marie isn't creating two pieces, one by one, in ten minutes but is rather sawing one cut in ten minutes. To obtain 3 pieces, you need two cuts, thus 2x 10 minutes. Sure it was supposed to be a question about the rule of three. But it wasn't one.
However. It seems very hard to understand this. I spoke to two people who both had troubles solving this problem. One was thinking about the rule of three and indeed proved the teacher correct… until I pointed out the real work is creating one cut rather than one piece of wood – he picked it up immediately, although he made the remark that this question lacks information and thus can't be solved easily.
Failing fail
The second person however, still didn't got it. After a long and bizarre explanation from his side, he came to this conclusion:
You saw the board in 2 pieces and then you saw one of these pieces in two. Here the student is right.
You saw the board in half, then you have two pieces of wood that are half the width of the original. Now, you saw perpendicular to the previous cut. Then, you'll need to cut through half the width of the original board and thus you need half the time. Thus the total time of 15 minutes
And thus, both student and teacher are right, depending on how you approach the problem.
Failing fail fails
I pointed out that he's assuming a lot of things. First of all, you need a board that is a perfect square, preferably a cube. Then, you need to saw perfectly in the middle to obtain two equal parts, which can be cut in half the time. But when it isn't a square, you're end of story, because you can saw the perpendicular part in less then half the time. Or more, depending on which side you're sawing.
So that leaves us with another possibility: suppose Marie is just cutting of some corners. Then she's finished in 2 minutes. Or 3. Or 1.5. Undefined.
And that's the point my second correspondent tells me … the question lacks information and thus just can't be solved.
But hey, it's probably me. I might not be good enough in maths to solve this complex primary school maths problem.